"ChatGPT in the Primary classroom"
What is ChatGPT?
Over the past few months, you may have started to hear people talk about ChatGPT or seen posts on social media but what is ChatGPT and how can it support teachers? ChatGPT is a free tool that works like a 'chatbot'. You simply type in a question and within seconds your results are shown. There's great possibility in how ChatGPT could be used in the classroom from generating ideas for lessons, producing prompts or questions for lessons or even producing the lesson plan itself.  In this blog I will start to explore some of the possibilities ChatGTP can now open up for us as teachers.
 So how can ChatGPT help?
I asked ChatGPT to create me a lesson for a 'Year 1 class based around algorithms'. Within a few seconds, I had the ideas given for the lesson with an appropriate definition of what an algorithm is for KS1 pupils; a set of steps or instructions to solve a problem.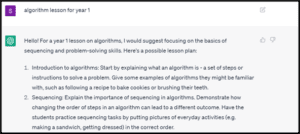 Moving on from this, I wondered if it would be able to produce me a set of definitions for some computing vocabulary.
Clear definitions have been given, but these may be too long winded for my Key Stage One pupils so I entered this again adding in 'KS1'
This time not only did it produce a simpler explanation but also suggested activities I could do with the class.
So what else could it do?
There are lots of great videos on BBC bitesize to support computing lessons which I like to incorporate into my lessons. I wondered if my new friend ChatGPT could help me write a set of questions based on the video explaining the difference between the World Wide Web and the Internet.
In ChatGTP I wrote 'write a set of multiple choice questions with the answers based on this..' and then I copied and pasted the transcript from the video
Within a few seconds, I had five questions I could use in the class, with the answers. Fantastic!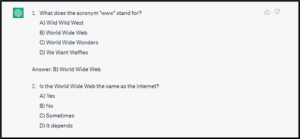 Is this just useful for computing lessons?
ChatGPT can be used as a tool to save time and reduce workload in many areas of the curriculum. Just some of the first thoughts that came to me when exploring were:
Producing a set of guided reading questions
Creating definition cards
Writing lesson plans
Producing modelled writing examples
Statements for reports
So what are the downfalls?
Alongside all the positives of using ChatGPT in the classroom, there has also been a lot of talk about the limitations. Like everything online, time needs to be used to ensure the reliability of what is being shown. Knowing the accuracy of what is being shown may also be down to the teacher's own subject knowledge. When asked to generate modelled texts or a bank of questions, teachers may find the language or vocabulary may need to be tweaked or a set of questions may need adapting for the complexity level. Staff will also need to spend time exploring and getting to grips with how to use it and how to edit and refine the questions to produce exactly what they want. However, as a time saving tool, I think it personally has great potential for the primary classroom and I am excited to start testing this out.
If you'd like to find out more about how School ICT can support your school with consultancy, training, IT services or MIS support – please contact us on: 0345 222 6802 – option 4 or e-mail: enquiries@schoolicts.co.uk.
Teaching Through Technology - Supporting you to help and inspire students and to ensure you get the best use out of all the technology you already have in school!