Following on from the success of phases one and two of our webinars and to ensure we continue to provide the latest SIMS updates, tips and developments to our customers, we have now confirmed phase three of our FREE webinar schedule: –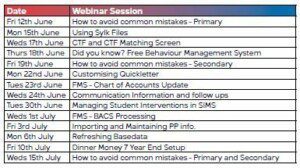 To view the schedule in further detail please Click Here
To book your place please visit: https://schoolictservices.clickmeeting.com/
All webinars will start at 2pm and run for approximately 30-45 minutes. (Please note that timings are an estimate and may vary depending on the number of questions asked during the session).
All registered delegates will receive an email invite prior to the event and the webinar will be delivered through https://clickmeeting.com.
Please feel free to forward onto any relevant colleagues within your school or other establishments who these may be of interest to.
Please contact: helpdesk@schoolicts.co.uk or call us on: 0345 222 6802 if you require any help or further information.