Welcome to our latest newsletter: –
School ICT Customer Portal
Did you know that as a School ICT customer you have access to the latest information and guidance notes to assist with maximising the use of SIMS in school? Please click the link below for our guide to the Customer Portal and contact the helpdesk for your unique log in to this free resource.
Customer portal
Assessing without levels
Are you aware of this built in resource in SIMS? The programme of Study with SIMS Assessment allows you to track progress against your curriculum, and schools can create their own marksheets, tracking grids and calculations. Schools can adapt the Programme of Study screen to support the specific needs of their school and align it with their own assessment policy. Additional subjects, strands or statements can be created. Any newly created resource will automatically link to the pre-defined analysis and reports, this can prevent the need for additional third party software.
If you would like to find out more please call the helpdesk on 0345 222 6802 or book onto the training course on 4th June to learn more about this area of SIMS.
Key Stage Returns
The latest guidance notes on how to set up and submit returns are now available on the Customer Portal, these can be accessed via Knowledgebase / Categories / Key Stage. Should you need further assistance, please call the helpdesk on: 0345 222 6802.
We recommend that you check arrangements for submitting your data with your Local Authority as this information can vary.
Reporting with SIMS
As the period for sending home reports to parents approaches, did you know that you can use SIMS to generate labels and mailmerge letters? Click the button below for a guide on how to use SIMS to create labels.
How to guide - Creating labels in SIMS
Premium InVentry Reseller Status!
School ICT have been awarded premium InVentry re-seller status, if you're not yet using an electronic sign in system get in touch for a free demo!
Here's Jason and John accepting our award from George at InVentry: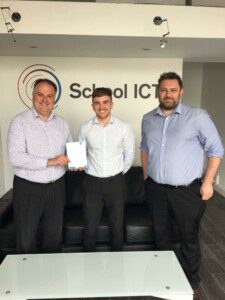 Upcoming Training Courses – book soon to secure your place!
Take a look at our scheduled training brochure for the courses we're planning for the remainder of this academic year.
For anything not included, please give us a call to discuss your needs in further detail as if there's enough demand we can run additional courses, or look to deliver training on site.
**Due to demand we are holding an additional New School Year Beginners – Primary course on the 20th June in Leeds and a SIMS Top Tips, Best Practice Techniques and Housekeeping course, also on the 20th June, in Essex**
Scheduled Training Course Brochure
The School ICT Team is growing!
This year is flying by, we're almost half way through already…so we thought it was about time we introduced some of the newest members of the School ICT Team: –
Hannah Chidgey, (photo below), joined the school ICT team in January as a Business Development Manager based in Essex and says she has 'never looked back!'.
After almost 10 years working for a corporate schools software company Hannah said 'it has been refreshing to join a team that effortlessly provide warmth and dedication to their customers every single day'.
With the support of our gold standard consultants, Hannah works closely with schools and MATs who need to improve the efficiency of their schools data, whilst seeing a bigger return on their investment in SIMS.
When asked about her new role and why she made the move to School ICT Hannah said 'Helping schools to make their budgets go further, whilst greatly improving their service experience is what made the role ideal for me'.
Sarah Horton, (photo above), has a degree in IT and has worked in various roles within the IT sector throughout her career. Sarah has worked as a SIMS Manager, Exams Officer and SIMS Consultant before she joined School ICT as an MIS Consultant in April.
Sarah first became aware of School ICT via a very positive and impartial thread on social media which prompted her to investigate the company further. She said 'I was impressed with the company core values and ethos, which is all about being honest, working with integrity, recognising and valuing their staff and treating all customers and staff with respect'.
'I am thrilled to have joined School ICT as an MIS Consultant and have loved my first few months.  I have been made to feel very welcome and already feel part of the team.  School ICT encourage cross skilling, knowledge sharing and professional development and communication and transparency is key'.
Having worked in a number of schools Sarah massively understands the constraints our customers are under and has a genuine desire to help our schools work as efficiently and as effectively as possible.  Sarah said 'A good day for me is if I have learnt something new and helped someone and this work ethic is shared by the whole of School ICT which is wonderful'.
Help us to help you!
As part of our continuous improvement, we would value your feedback on our SIMS training offering.
Please click the below link to our quick Google Form survey: 
https://forms.gle/yw9NFsgWrCd7ewQbA