Please keep checking the 'News' section of the School ICT website for all our latest news and updates.
Updates & Advice Notes regarding Covid-19
These Guidance Notes and Information Sheets are designed to be generic, they are based on information from the DfE or other statutory principals, that need to be considered by each school and setting and amended accordingly if required. 
These Guidance Notes cannot form legal advice, as by their very nature they are generic.
The attachments are:
If you receive any Subject Access Requests, or Freedom of Information Requests, contact the requesters immediately with an acknowledgement email which simply says:
"Thank you for your request.  Given the present circumstances relating to Coronavirus, we may need to rely on extensions to time in order to comply.  Our resources must be deployed in protecting the safeguarding, the welfare of people's staff and parents and carers in our schools.
We will use our best endeavours to comply as quickly as possible, and hope you will understand if there are any delays."
If anybody needs further guidance or advice about particular matters, please in the first instance, email john@jawalker.co.uk.  The following sheet sets out the information John requires in order to process queries as effectively as possible: Legal Support Request
IMPORTANT NOTE FOR GDPR WEBSITES – You MUST post this on the website to manage the requirements for Key-workers
Did you know? - Programme of Study
Programmes of Study – Assessing without levels
Are you aware of this FREE built in resource in SIMS? The programme of Study within SIMS Assessment allows you to track progress against your curriculum. Teachers can access the National Curriculum Programmes of Study for all core and foundation subjects. This means that teachers can review any area of the curriculum that is relevant to their teaching and make assessments against it. Schools can adapt the Programme of Study screen to support the specific needs of their school and align it with their own assessment policy. Additional subjects, strands or statements can be created and any newly created resource will automatically link to the pre-defined analysis and reports which can prevent the need for additional third party software.
If you would like to learn more about this area of SIMS please call the School ICT Helpdesk on: 0345 222 6802.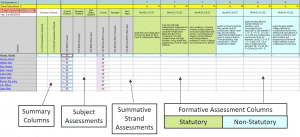 Programme of Study – Entering Next Terms Assessment
Programme of Study – Recording an overall Summative Judgement for the Subject
Programme of Study – Recording a Summative Assessment
Programme of Study – Viewing Formative Judgements Across Strands
Upgrade News
EXAMS
To support the reporting of provision of Exams Access Arrangements, (i.e. special arrangements), on various pages in SIMS, the following items have been added to the reporting dictionary:
Arrangements sub-report (via Student | Exams Access Arrangements) – this sub-report contains the Arrangement Description and Extra Time Y/N fields.

Access Arrangements Comments field (via Student | Exams Access Arrangements).
School Administrators can now import pupil/student personal email addresses and telephone numbers:
For Secondary schools in England and Wales and Independent schools, School Administrators can now import pupil/student final university placements from UCAS. For Independent schools, this enables statistics to be obtained from SIMS and sent to the Independent Schools Council regarding the percentage of pupils/students who went on to Higher Education.
For Secondary schools that use Examinations Organiser, a new panel on various pages in SIMS displays any Exams Access Arrangements, (i.e. special arrangements), that have been recorded against a student in their role as an exam's candidate via Examinations Organiser. This information is read only.
Recording Y code for Pupil Absence and Change of Bank Holiday
Single Central Record in SIMS
Did you know there is already a Single Central Record in SIMS Reporting named OFSTED SCR?
To run this report go to: Reports | Run Report | Focus | Staff.
Then navigate to the report named OFSTED SCR. Double left-click on this to run the report.

For information, you may find it beneficial and Best Practice to add your Volunteers and School Governors into SIMS Personnel. Staff Training can also be entered if necessary. If you need to create or edit a SCR please log a call with the Helpdesk for assistance. This can be amended to any specific school or LA requirements.
FMS – Equipment Register Module
Does your school have an up to date Inventory of all your equipment held in School?
Do you get tired of filling out spreadsheets with endless lists of equipment, deciding where it belongs and who it belongs to?
Are you still completing a paper based equipment register?
Why not get your SIMS FMS Package to do all the work for you?
Your SIMS FMS contains a module called "Equipment Register" – This handy tool allows the school to export pre-existing FMS Invoice information and import into "Equipment Register" to form the basis of a list of all equipment held in school.
Using SIMS.net data such as staff detail and rooms, you can then place Equipment to the room or class teacher as appropriate.
The module can produce various reports, stock takes and inspections.
Best of all, this module is free and is already part of your FMS system!
If you would like more information, please log a call with the School ICT Helpdesk.
FMS – Year End
We have produced a check sheet to assist with the FMS Year End Procedures. The check sheet is intended to guide you through your FMS year end procedures, some tasks listed may not be applicable to your school. If you are unsure please seek guidance from your School Finance Team.
Please note, the guide should not be used as a replacement to your usual financial guidance.
Training
Please be assured that we are committed to delivering the training and support that you need during this difficult time.
Any training already booked can be transferred to a later date and we are looking to run webinars where possible. This is still in the process of being worked through and we will be in touch with updates as soon as possible.
For now you can click on the following links to view all our scheduled training courses, but please note that in current circumstances, these are subject to change: –
Reminder: When booking training, please remember to include your mobile number so we can contact you if courses are cancelled at short notice.
School ICT Resourcing
We are currently recruiting for a variety of School Administration roles across the Leeds area. If you have knowledge of SIMS and previous experience of working in a school environment we'd love to hear from you! The opportunities we have need varying levels of expertise from simple reception duties through to more complex Finance administration.
We offer flexible working hours in term time only with both part-time and full-time options, excellent rates of pay and holiday pay. If you would like to talk to us about these roles or any other non-teaching opportunities then please contact us.
Visit: http://www.schoolictresourcing.co.uk, e-mail: helen.goddard@schoolictresourcing.co.uk  or call Helen on: 0345 222 6802 – option 5 for further information.
Events
Please note that the Best Practice in SIMS seminars, planned for Harrow on the 22nd April and Nottingham on the 23rd April, will be delivered as webinars covering; Setting Up a New School Year in SIMS and Using SIMS with the new Ofsted Framework. We will be contacting all registered delegates. 
Best Practice in SIMS –

22nd April – Webinar suitable for ALL Secondary Schools. D

etails to be confirmed shortly

Best Practice in SIMS –

23rd April – Webinar suitable for ALL Primary Schools. D

etails to be confirmed shortly

Best Practice in SIMS – Wiltshire: Wednesday 13th May, Devizes, Wiltshire (Venue TBC dependant upon Government guidance nearer the time)
Best Practice in SIMS – Cheadle: November TBC
For anyone wishing to book a place or register your interest please e-mail: marketing@schoolicts.co.uk
InVentry Premium Reseller status.

We are delighted to have had our InVentry premium reseller status renewed for another year – from 2020 – 2021!
(New logo pending!).

As a premium reseller of InVentry, the leading solution for visitor management, we have an exclusive offer to allow you to buy now and spread the cost over two years, enabling you to benefit from a fully equipped, MIS compatible touch screen system that accurately monitors who is in your school.
Call us on 0345 222 6802 or email: enquiries@schoolicts.co.uk for more information.
New product launch!

Introducing…Pastoral Genie
The Pastoral Genie provides a complete analysis of current and historic Attendance and Exclusion data for schools using SIMS, allowing easy comparison to national data.
The analysis is broken down by key groups and has been designed with Ofsted in mind. The Pastoral Genie provides analysis targeted to answer the questions Ofsted are likely to ask (and the less likely too).
It provides the information you require to provide a targeted approach to tracking. For further information or to place an order visit the School Genies website, to make your dreams come true! https://schoolgenies.co.uk/
Capita daily webinar sessions!
Did you attend the School ICT Annual Conference?
If you attended, we'd love to hear your feedback and would be most appreciative if you could please complete the following Google form: https://forms.gle/5zQYHw4rGQat6K3V6
If you we're unable to attend, it would greatly appreciated if you could tell us the reason why to help us plan for future events e.g. Traffic issues, Staff absence etc. by completing the following Google form: https://forms.gle/CPh8Bq4T7HSLsS4t6